The Amjad Ali Khan College of Business Administration (formerly Sultan-ul-Uloom College of Business Administration) was established in the year 1991-92 under the affiliation of Osmania University with the approval of the AICTE, New Delhi and Govt. of AP. The College has earned statewide recognition for its academic excellence and in meeting the needs of industry for professionally trained graduates.
The college has successfully produced 25 Batches of Management Professionals till date. A total of five batches of Integrated MBA(BBA+MBA) are in progress now studying various semesters.
OUR RICH LEGACY
Sultan-ul-Uloom Education Society was founded on the rich tradition of culture, enterprise and sound values, characteristic of the founding members - each an accomplished and successful individual in his own right. Motivated by a strong desire to provide students of diverse social and cultural backgrounds with the opportunity to enjoy the quality education that would eventually lead to the upliftment of society as a whole, the Society offers education in various disciplines, ranging from Engineering and Technology to Business Administration, Law, Pharmacy and more.
INCEPTION
Sultan-ul-Uloom Education Society was established in 1980, and since then has been performing a vital service to students. Through each of its institutions, the Society offers individuals the opportunity for a well-rounded education, in the discipline of their choice, while equipping them with all the skills required to function as responsible members of society and face the many challenges associated with the continually evolving industrial and economic scenario.
Today there are over 11000 students enrolled in various institutions run by the Society. Spread over a sprawling campus, the complex houses, Muffakham Jah College of Engineering & Technology, Ghulam Ahmed College of Education ,Amjad Ali Khan College of Business Administration, Sultan-ul-Uloom College of Law,Sultan-ul-Uloom College of Pharmacy, Sultan-ul-Uloom Junior College and Sultan-ul-Uloom Public School, Sultan-ul-Uloom School (Falaknuma Branch),Sultan-ul-Uloom School (Syed Ali Chabutra Branch), Sultan-ul-Uloom School (Golkonda Branch).
Founder Members(Visionaries)
The Board of Governors
| | | |
| --- | --- | --- |
| 01 | Mr. Khan Lateef Mohammed Khan | Chairman |
| 02 | Mr. Mohammed Waliullah | Vice-Chairman |
| 03 | Mr. Zafar Javeed | Hony. Secretary |
| 04 | Mr. Nisar Ahmed | Joint Secretary |
| 05 | Dr. Mir Akbar Ali Khan | Treasurer |
| 06 | Mr. Ibrahim Ali Siddiqui | Member |
| 07 | Mr. Syed Abdul Wahab | Member |
| 08 | Mr. Naseem Nathani | Member |
| 09 | Mr. Mohd Jafer | Member |
| 10 | Dr. Mohd Aslam Khan | Member |
GOVERNING COUNCIL MEMBERS
| | | |
| --- | --- | --- |
| 1. | Mr. Zafar Javeed | Chairman |
| 2. | Dr. Mir Akbar Ali Khan | Member |
| 3. | Mr. Nisar Ahmed | Member |
| 4. | Mr. Wajid Ali Kamil | Member |
| 5. | Mr. Aamer Javeed | Member |
| 6. | Prof. Shehbaz Ahmed | Director & Convener |
SPECIAL INVITEES
| | | |
| --- | --- | --- |
| 1. | Mr. Nasim Nathani | Member, BOG SUES |
| 2. | Mr. Mohd. Jafer, | Member, BOG SUES |
| 3. | Mr.S.A. Wahab | Member, BOG SUES |
Mission
To provide holistic management education by continuously improvising and innovating academic performance through interface with industry.
Delivering What Corporates Demand
The MBA programme is of two years duration split into four semesters with each semester spread over a period of 14-16  weeks in addition to 6 weeks of project work in any reputed industry or corporate house. The College strives continuously to uphold high academic standards in postgraduate business Education.
The college also offers five years Integrated MBA (BBA+MBA) course split into ten semesters with each semester spread over a period of 14-16 weeks.
Admission
The students are admitted purely on the basis of merit secured in Common Entrance Exam conducted by State Govt.
Motto:"Lighted to Enlighten"
 Milestones/Crowning Glories of the College
The college made a modest beginning with 40 students in the MBA program in the year 1991 and the intake was enhanced to 180 students in the year 2013.
The college was steered by prolific Directors, right from its inception with Mr. Md. Ziauddin, IAS as its first principal succeeded by Mr. N. Z. Ahmed from London School of Economics, Major S. G. M. Quadri became the third principal and spearheaded the college from 1993-2000.
The College added a feather in its cap under the dynamic leadership of Mr. Shehbaz Ahmed by adding innovative dual degree course, the first of its kind in the state of Telangana namely, Master in Applied Management(MAM) under affiliation from and approval by AICTE.
The college pioneered first Ghulam Ahmed memorial lecture by inviting Mr. Abid Hussain, former ambassador to US and A M Khusro, Chairman IX planning commission.
The college has the sole credit of conducting National level workshops namely, Syncretize I/II/III for the benefit of budding managers.
Amjad Ali Khan rolling shield is presented annually to the winners of Economic Times Quiz.
The Chairman
The Sultan-Ul-Uloom Education Society began as an educational initiative with an underlying mission to equip students of diverse disciplines with the skills and competencies needed to face the challenges of a fast changing world. Over the last two decades the Society has grown and branched into a giant tree of learning under which 9 institutions straddling diverse areas of learning have emerged as premier centers of quality education. Keeping pace with rapidly evolving ideas and technologies through quality education has been the mainspring of the growth of our institutions.
We at Sultan-ul-Uloom believe in the advancement and dissemination of knowledge that would serve the intellectual needs of citizens of the 21st century in a global economy. We believe that knowledge acquired should be applied to contribute to the well-being of humanity and that our students should lead productive, responsible and meaningful lives.
It is this vision which guides the vibrant campus community of students and faculty alike.And spurs them onto constantly raise the bar of academic standards. Quality, creativity, openness and diversity fire all of us to aim higher to realize our ideals and aspiration.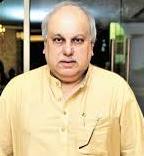 Message From Hon. Secretary :
I take this opportunity to express my best wishes and good luck to MBA/MAM students of Amjad Ali Khan College of Business Administration, who are embarking on a journey to become global managers.
This institute has produced the best examples of merit and " Where ever they go they are leaders"; they carry the trademark of our excellence in almost all corners of the world.
The credit for such excellence goes to the faculty members and the individual efforts of the students who are fulfilling their personal goals and the college vision.
I am confident that the education imparted in our Institution would give our students a holistic view of life and will broaden their mental horizons so as to equip them to meet the needs and challenges of a career in corporate world.
I wish the students success in all their future endeavors.
The Director
Prof. Shehbaz Ahmed is currently the Director of very prestigious Amjad Ali Khan College of Business Administration, established by Sultan-ul-uloom Education Society which figures in top 5 college of Telangana offering MBA program under Affiliation to Osmania University.
Shehbaz Ahmed possesses around 15 years of experience in teaching, training, corporate communications and consultancy.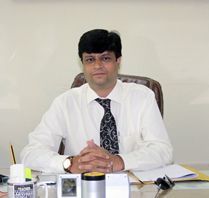 An acclaimed academician, Mr. Ahmed holds MBA with Distinction and had been a brilliant student from St. Georges Grammar School.
Having acquired his doctorate in the area of services Marketing, he went on to become the youngest professor in the annals of Osmania University.
He started his career as Finance Executive with a Multinational Company in Dubai, United Arab Emirates. His passion for teaching made him to venture into the realms of education.
He has steered ' Sultan-ul-Uloom College of Business Administration' since 1995 in various capacities as Associate Professor, Director and Chariperson. He is instrumental in setting up Personality Development institute for Sultan-ul-Uloom Education Society.
His varied experience in teaching, training and imparting Quality Education made him an invited speaker to leading business schools of the country namely IIM(A), Symbiosis Pune, Osmania University, Hyderabad Central University, T.A.Pai Management Institute Manipal, ICFAI school to name a few.
An avid scholar, prolific speaker has published widely in National and International Journals.
PUBLICATIONS / SEMINARS
'Catalytic role of Marketing in two wheeler Industry' - Economic Times.
'Culture paradox and Indian Ground reality' - National workshop on Ethos & Leadership at CBIT.
Innovative methods in Teaching Basic Marketing - T.A.Pai Management Institute - Manipal
Presented a paper on topic "Emerging role of Technology in developing superior customer service" at National Seminar at Hyderabad Central University.
Soft Skills for ITians at Adhyayan – 2003, the state level women IT meet held recently at Andhra Mahila Sabha in July 2003
Conducted workshop for Deputy General Managers of BHEL on "Creativity in Problem Solving"
COMMIITES & BOARDS
He serves on various committees and Boards:
As Member, Academic Advisory Board of Hyderabad Central University.
Managing Committee member – Sister Nivedita Foundation.
Member, Exam Evalutation Committee of Osmania University.
Paper setter for MBA entrance of Moulana Azad National Urdu University.
He has conducted numerous workshops, training programs for Managers of BHEL/ DRDL / Sri Ram Group of companies to name a few.
To know more about him, visit: