MBA IV Semester students were sent on Industrial tour to Bangalore, Mysore, and Ooty.   They visited following Industries 1) Karnataka Silks/Mysore Sandal Soap factory.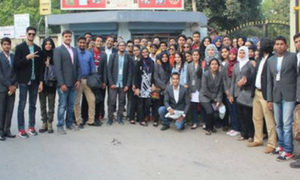 2) Karnataka Milk Federation, Mysore and Tea factory in Ooty.    The duration of the tour was 5 days (from 4th November 2016 to 8th November 2016).
  
89(30 girls and 59 boys) students availed this facility.   4 faculty members were deputed to accompany the students.